Bug Report.
This article will discuss How to Submit a Bug Report.
Step 1: Login to your AlphaX account at https://app.alphax.cloud/
Step 2: Click on 'Announcement icon' on top-left of the screen.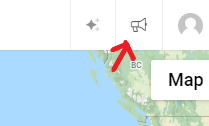 Step 3: After clicking the icon you will see a support request pop up. Please select your site from the drop down for site and 'Bug Reports' as request type. Fill in the 'Request Details' and click the send button.